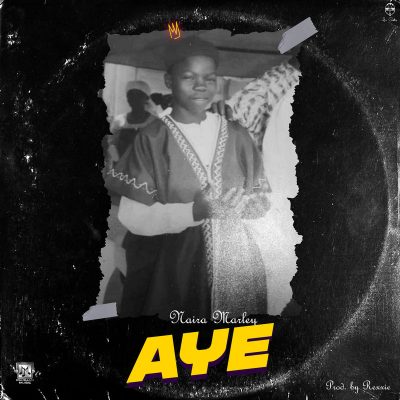 Marlian Presido – Naira Marley is back with a new street motivational song dubbed "Aye". This Another Banger!
Naira Marley returns with the release of a smashing, conscious single titled "Aye". The Rexxie produced song is a mid tempo street pop tune with good instruments and vibe. This serves as Naira's second single for 2020, a follow to his debut 'Anywhere' a trap record which features UK female rapper Ms Banks.
The new jam "Aye" is a Yoruba word that means 'Life'. Naira Marley talks deep about life with reference to his popular slang, 'Inside Life' and 'Mafo'. He shares that Life is not hard at all, it's the humans who live inside life that makes it difficult due to jealousy, envy, hatred, and evilness. Naira further stressed that before he was always scared of the evil ones but now things has changed.
He isn't afraid of anyone because he doesn't do evil and wish people bad. On this track, we get to see another side of the singer as we see him speak the bitter truth that humans don't like to hear. It makes you want to have a rethink about life and change somethings about yourself.
Quotable Lyrics:
Shebi tele tele, lama fo fun won wipe
K'oma wa l'oru, toripe awa ti jade
Amo ni sinyi o,
Ton ba wa losan, ton ba wa loru,
Awa n be ni be, awa o de le fo fun won
Toripe awa Tingasa, awa o de le sa fun won
Aye yi o le o, (Aye yi o le)
Aye lo m'aye le, (Aye lo m'aye le)
Ninu aye lo ti di f'aye, Aye lo m'aye le,
(Aye lo m'aye le)
Aye yi o le o, (Aye yi o le)
Aye lo m'aye le, (Aye lo m'aye le)
Ninu aye lo ti di f'aye, Aye lo m'aye le,
This a great message for both Marlians and Non Marlians, Listen Enjoy and share your thoughts
STREAM/DOWNLOAD